184 stocks, largely from the small & midcap space, in the S&P BSE500 index are trading at pre-COVID levels and 8 of them have rallied more than 100% since then
Indian benchmark indices are at a 6-month high but are still 5 percent away from pre-COVID levels. The first case for COVID in India was registered on January 30. Sensex closed at 40,913 and Nifty50 ended at 12,035 that day.
Benchmark indices may still be away from their pre-COVID levels, but there are 184 stocks, largely from the small & midcap space, in the S&P BSE500 index that are trading at pre-COVID levels.
Out of 184 stocks, 8 have rallied more than 100% since then. These include Laurus Lab, Alkyl Amines, GMM Pfaudler, Birlasoft, Dishman Carbogen, Adani Green, Granules India and Tata Communications.
As many as 26 stocks out of 184 rallied 50-100%, including IndiaMart Intermesh, Glenmark Pharma, Ipca Laboratories, Tasty Bite, Vaibhav Global, Suzlon Energy, Divis Laboratories and Dixon Technologies.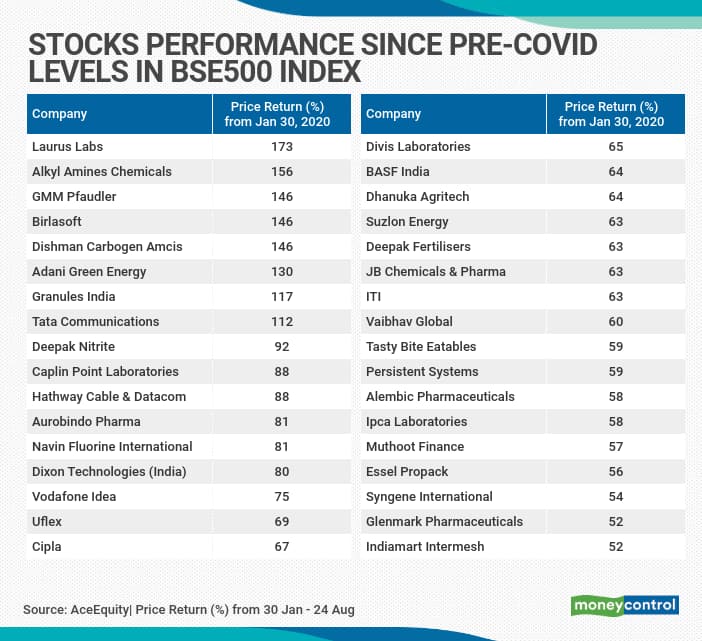 Small & midcaps have hogged the limelight since March as liquidity started chasing growth and undervalued stocks. Most of the largecaps were trading at high valuations, and after 2 years of underperformance small & midcap stocks were looking attractive.
Benchmark indices have rallied by about 50 percent from the lows, but are still negative on a year-to-date (YTD) basis. Technicals suggest that the bull run is likely to continue for some more time but risk-to-reward is not favourable; hence, it makes sense to remain stock specific.
"The valuations of some small and midcaps had fallen significantly over the last 2-3 years. The market had polarized into a handful of extremely overvalued, mostly, consumption-oriented, popular stocks, and the rest of the market was divided into capital destroyers and eroders which were rightfully cheap," Dr. Vikas Gupta, CEO & Chief Investment Strategist at OmniScience Capital told Moneycontrol.
"Many companies with strong balance sheets, persistent advantages but ignored by the market due to less familiarity, inaccurate analysis & misguided perceptions which were at significant discounts to their intrinsic values," he said.
Gupta further added that the March downturn in the market caused a few sophisticated fund managers or investors to do a fresh search across markets to find new opportunities. "These ended up driving the rebound in the stocks with strong balance sheets and strong growth opportunities but mispriced, which we alluded to above," he explained.
For Ragular Update Visit Our Site.
                                  Click Link Below.
https://www.facebook.com/newsmarkets